Door & Gate Automation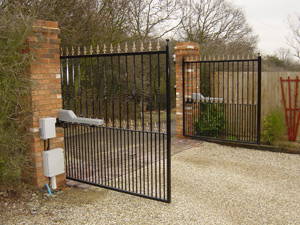 Automatic Gates and doors installed by Acktron offer a great deal of benefits. Installed internally and externally to residential and commercial buildings, they allow building entrances to be automatically & safely controlled. Door & Gates automation offer convenience of operations and comfort.
Acktron offers you a complete choice of products which include Automation Work such as Automatic Systems for Sliding & Swing Doors, Automatic Barriers, and Electromechanical Actuators for Swing Gates, Gear Motors for Rolling Shutters and Gear Motors for Sliding Gates.
Features & Benefits of Automatic Doors
Smooth & Reliable operation
Full threshold safety
Suitable for both single and double leaf doors/gates
Emergency opening in the event of a fire or power failure
Energy/Cost Saving
Full Control on the entrance
Continence
Some of the Options Include:
Sliding Automatic Doors & Gates
Swing Automatic Doors & Gates
Rolling Auto Shatters
Automatic Curtains
Video Door Phone
Motorized Retractable Gates
Flap Barrier