High Sensitivity fire detection solution (Aspiration/VESDA)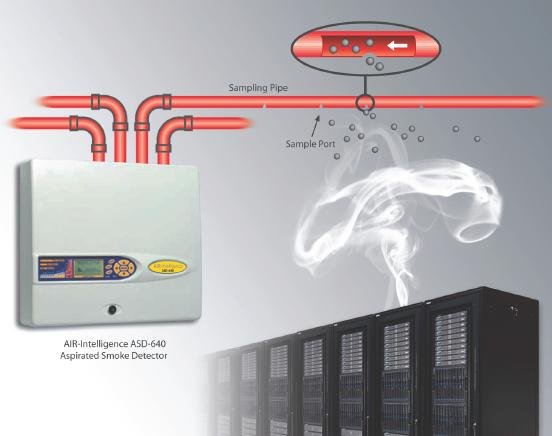 Aspirating detection usually here in called as VESDA (Very early Detection systems) are fire or gas detection systems with outstanding reliability. They detect the smoke much before it is visible to human eye.
Aspirating smoke detection ensures reliable fire detection in demanding application areas, where very early fire detection is required and business continuity is paramount. Aspirating smoke detectors continually draw samples of air from the areas requiring protection and evaluate these samples for the presence of smoke. By determining the size and concentration of the airborne particles, the aspirating smoke detectors are able to differentiate between smoke and dust and steam particles. As a result, they offer highest detection reliability and immunity to deceptive phenomena, thereby preventing downtimes and costs caused by false alarms.
Benefits at a glance
Very early fire detection for fastest possible warning and response
High detection reliability prevents false alarms
Suitable for difficult environments
Direct integration into a Cerberus PRO fire detection system from Siemens
Patented chamber design for extended product lifespan
Industries and Applications
Clean Rooms
Cold Storage
Cultural/Heritage
Data center & Telecom switching centers
Hospitals and Healthcare
Marine
Nuclear Facilities
Oil & Gas
Portable Switch Rooms
Power Generation
Records Storage
Transportation
Warehousing